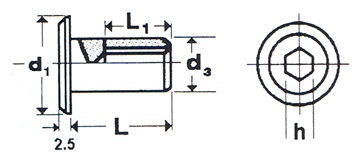 Product Description
Connector Caps are designed to be used with Connector Bolts, offering a low profile, decorative finish.
Material
Steel, Stainless Steel.
Finish
Zinc Plated, Bronze, Black.
Specials
If the connector Cap Nuts you are looking for are not shown, then please enquire to our sales office with the dimensions and the quantity. We stock a wide variety of specials and can manufacture different sizes if required.
**CN-8016 has a mushroom head 3.2mm in height.
**CN-60065 has a mushroom head 3.1mm in height.
**CN-6010-ST-ST has a mushroom head 2.3mm in height.
Product Code
Thread
D1
D3
H
L
Finish
L1

Price

i

Stock

Pack Size

i

No. of Packs

CN-60065-NP

M6
15
9.5
4
6.5
Nickel Plated
-
£17.25
9236

CN-6010-ZP

M6
14.8
8.9
5
10
Zinc Plated
>6
£6.75
48954

CN-6010-ST-ST

M6
14.8
8.9
5
10
Stainless Steel
>6
£16.84
8600

CN-6012-Z-P

M6
14.4
7.5
5
12
Zinc Plated
>8
£6.00
181600

CN-6012-BLK

M6
14.4
7.5
5
12
Black
>8
£8.25
15694

CN-6012-BRO

M6
14.4
7.5
5
12
Bronze
>8
£6.25
7260

CN-6012-YZP

M6
14.4
7.5
5
12
Yellow Zinc Plated
>8
£6.00
5617

CN-6012-4-ZP

M6
14.4
7.5
4
12
Zinc Plated
-
£6.00
738875

CN-6012-4-BLK

M6
14.4
7.5
4
12
Black
-
£7.00
34417

CN-6015-ZP

M6
15
8
4
15
Zinc Plated
-
£6.50
7850

CN-6015-BRO

M6
15
8
4
15
Bronze
-
£6.25

i

Enquire Now

CN-6017-Z-P

M6
14.8
8.9
5
17
Zinc Plated
>13
£7.50
119783

CN-8016-FLAT-ZP

M8
20
9.9
5
16
Zinc Plated
>13
£7.25
32911

CN-8016-ZP

M8
20
9.9
5
16
Zinc Plated
>13
£11.13
174269

CN-1014-ZP

M10
19
12
6
14
Zinc Plated
>12
£21.63
2018

CN-1018-NP

M10
22.5
13
6
18
Nickel Plated
-
£15.25
35177