Sugatsune Sealed Magnetic Catch (Food Sanitation Act Compliant Material) - SMC-0100-BLUE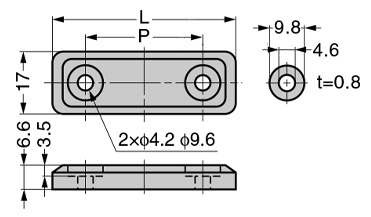 Product Description
Features
> Body material is compliant with the Food Sanitation Act (standard test for rubber implement, containers and packaging but not baby bottles).
> Blue body makes it easy to find even if it is covered in food and other parts can also be detected with a metal detector.
> The body is covered with silicone rubber which reduces the noise caused when the door closes.
> Small body with strong magnetic force due to neodymium magnet.
> Washer fitted in the body screw hole prevents silicone rubber from tearing when screwed.
Notes
> Do not use in strong acid or strong alkaline environments.
> Do not use in contact with steam, hot water or water.
> Max. temperature: 80C
> Do not scrape violently, as the damaged surface may tear. Please use a flat counter plate without irregularities.
Recommended Screw
Truss screw M4

| P | L | Magnetic Force N | Magnetic Force kgf | Weight |
| --- | --- | --- | --- | --- |
| 32 | 50 | 39.2 N | 4 kgf | 15 g |
This product is out of stock or not available from our website, please get in touch for further information