Sugatsune Door Holder With Wire - Stainless Steel - DHW-0010-304L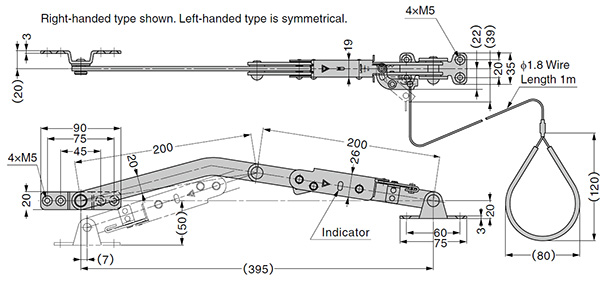 Product Description
> Automatically locks door when fully opened.
> Slide the grip to release the lock. Slide the grip to the end to remain unlocked.
> Safe and reliable operation without closing the door while releasing the lock.
> Indicator turns red when locked.
> Either 1 piece use and 2 pieces use is available.
Notes
> Release the lock while supporting the door.
> Opening angle and installation position change depending on the position of hinge centre. Determine the installation position based on the hinges used and cabinet shape.

| Type | Tension Force N/pc | Tension Force kgf/pc | Compression Load N/pc | Compression Load kgf/pc | Weight |
| --- | --- | --- | --- | --- | --- |
| Left-handed | 1470 | 150 | 588 | 60 | 650 g |
This product is out of stock or not available from our website, please get in touch for further information